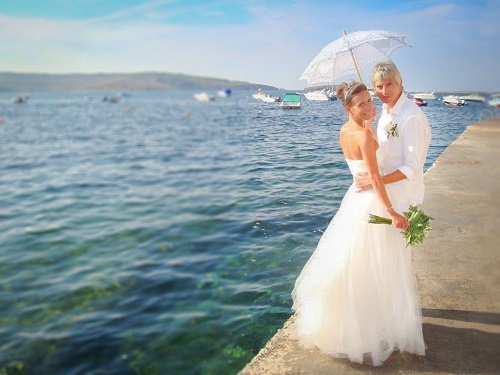 We are a couple from the UK now based in Malta and we offer bespoke Weddings completely tailored to your requirements.
Having had a destination Wedding ourselves back in 2001, we have experienced first hand marrying abroad and understand the pressures and emotions you will experience along the way. The difference was when we got married there was no Wedding Planner to help us along the way with sometimes overwhelming questions like the legalities but also the attention to detail things like the flowers to the timing of the ceremony and in our experience its the little things that are the most important. We arrived and met someone working at the hotel just days before our Wedding to find we had no choices or control of anything or what happened on the day. We vowed at that point we would do it again, our way.
We did however get the opportunity to do it all over again how we wanted it when we renewed our Wedding vows in Malta on our 10 Year Wedding Anniversary. We had a ceremony on the beach and the reception on a boat in Comino which ended with everyone in the sea fully clothed and that's exactly what we offer, your Wedding, your way down to the last detail.
Having originally ran Weddings in Malta out of the UK, we relocated to Malta where we can personally fulfill all of our Bride's and Groom's dreams for your perfect Wedding in Malta.
We are here to help, guide and advise you every step of the way offering amazing value and a perfect Wedding day in Malta and creating memories that will last a lifetime for you, your family and friends.
It would be an honour to assist you in organising your Wedding in Malta and we look forward to starting the journey with you and making your Wedding the best day of your lives.
Trust Weddings in Malta to undertake the planning and organisation of your marriage as seriously as you are preparing to take your vows.
Please have a look at what our Bride and Grooms have to say Weddings in Malta Bride and Grooms or our facebook page for what our bride and grooms say about Weddings in Malta www.facebook.com/weddingsinmalta.
Michelle & Lee X