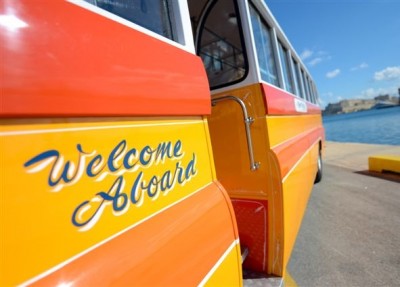 If you or your guests want to arrive to your Malta Wedding in true Malta style, a Vintage Malta Bus is sure to turn heads and Weddings in Malta can arrange this for you.
After been taken off the roads of Malta and Gozo on the 2nd July 2011 after serving Malta and tourists alike for over 100 years, the Maltese buses are now more sought after than ever and Weddings in Malta have the only fleet of Maltese buses on the Island available
The unique nature of the Maltese bus stemmed from the tradition of local ownership of the buses by the drivers, and their historic practice of customising them. In addition to a high degree of customisation, detailing and decoration, several Malta buses also had a unique appearance due to the practice of in-house maintenance, rebuilding or modifying of bus bodies in local workshops.
The Maltese Bus is now an iconic feature of the island, from the beautifully hand painted "welcome aboard" signs to the music … anything from the latest summer hits to the driver's favourite festa marches or football anthems. Many people arriving in Malta this year were saddened to hear of their extinction and cannot believe that they could no longer board the much loved Malta buses!
But you can…with Weddings in Malta, no matter how many guests you have for your Wedding in Malta we have a Maltese bus for you…