Where do we start? We cannot thank Michelle and Lee enough from Weddings in Malta for the time, effort and patience in planning our amazing Wedding in Malta.
It was like a Fairy tale from start to finish and every time we think of our Wedding we just cannot stop smiling it was truly magical and according to our guests 'Spectacular' !!!
From the very first email, we knew you needed to plan our Wedding in Malta. Everything you have done for us has been fantastic and we have loved getting to know you both.
We spent over two years planning our Wedding in Malta and Michelle and Lee were there from the very beginning. We told them what we wanted and they gave us exactly that, it was a whole year after we booked our Wedding before we finally made it to Malta to see our Wedding Venue and we were blown away it was everything we had asked Weddings in Malta for and we were not disappointed and didn't know how we were going to wait another year before we finally got Married.
After spending an evening with you both and plenty of Prosecco, we became friends for life and we got the bug then and came over three more times before our big day to meet up with all your wonderful suppliers you had organised for us and it was just seamless. We got everything we wanted and you both just kept giving and all the little touches you did really made us feel so special and we cannot tell you how much we appreciated how much you did for us it means a lot.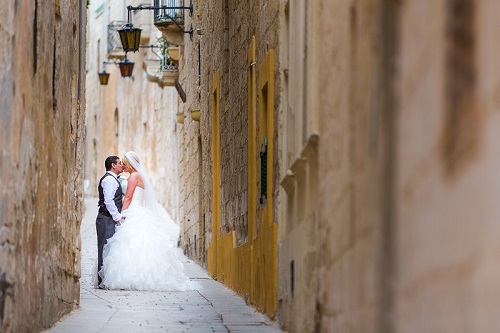 Our Wedding day was everything we imagined and so much more, the attention to detail was superb. The day went perfect and we could not fault anything – even when the thunder and lightning started at 10pm and we had to run inside! Michelle and Lee were there getting everyone inside in the dry and picking up all our stuff along the way like our Guest Book you were both awesome.
We didn't want it to end, the party was so much fun and you didn't stop dropping moves on the dance floor with us we were honoured to have you as Guests at our Wedding.
All of Our guests have been very vocal in their enjoyment of the day and also of you both being really "canny" (Geordie English!).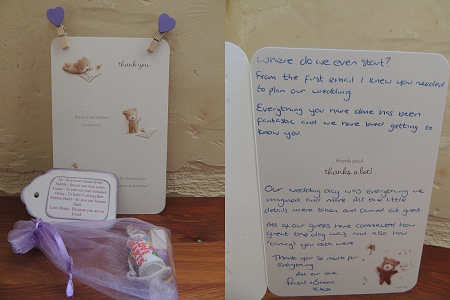 We cannot wait to pop back over to see our new friends over some Prosecco.
See you both very soon all our love Emma and Faisal X