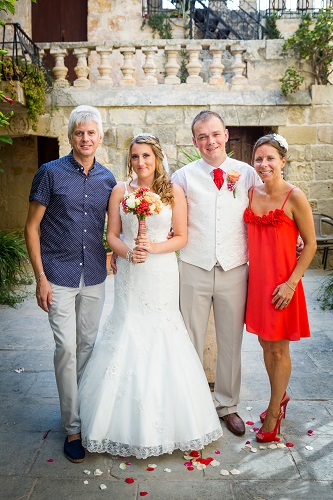 We had agreed to have an English Wedding and started looking around a couple of venues before deciding to have a nosy at the wedding show (a couple of years ago) at the NEC.
We came across the Wedding in Malta stall and it wasn't hard to win us over with the friendly welcome, glass of wine, the stunning venues and very reasonable prices!
You always associate getting married abroad with a hotel wedding but they had such a range of different venues to show us beyond what we were expecting. Mark wouldn't even entertain the idea of an abroad wedding before we met Michelle and Lee so thank you for been there that day!!
It all fell into place after that really, we had already booked to go to Gozo (for the first time) before we even met Michelle and Lee so it all just seemed right and we fell in love with the venues they had to offer.
We couldn't have expected the day to go any better. The morning phone call from Michelle was a lovely touch and everything after that went so quick but we enjoyed every single minute of it and disappointed it is all over now.
Our guests were really impressed and said they had never been to a wedding like it and are still talking about it now so if you want something special then we would definitely recommend Michelle and Lee to plan your day.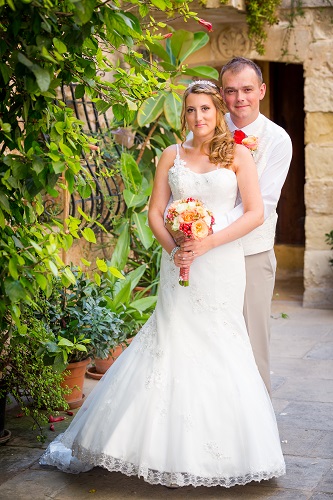 Our main aim for our wedding was to have a good time (including ourselves!), and that was certainly achieved and exceeded beyond what we ever imagined! Michelle also made sure I never had an empty hand, she was constantly following me round with a glass of sparkling wine or lemon cisk!
Every one who took part in the wedding did an exceptional job – the photographers, the caterers, the hairdresser, the florists, the make up artist, the guitarist, the DJ the bar people, the person who made our cake, etc, etc. I am sure I could go on and on.
A big big thank you to Michelle and Lee for our wonderful wedding, it was better than ever imagined and timed to perfection. We had such a lovely day and our guests are still talking about it now and how much they enjoyed it.
Michelle and Lee have done an amazing job finding the best in the industry.
It is quite sad it is all over now but hopefully we will see you again next year in Malta/Gozo!
Thank you, thank you, thank you!! Love The Hardings xxx