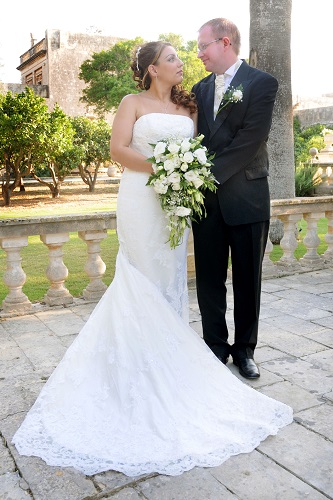 A huge thank you from the bottom of our hearts to Michelle and Lee for giving us our dream Wedding in Malta.
After meeting my English fiancée in Malta some years and me moving to the UK with him, I always said no matter where I ended up living I would return home to Malta to get married.
Despite living in Malta almost my entire life I didn't know where to start. Luckily Giles is pretty hands on and just took over arranging our Wedding in Malta and from the moment he got in touch with you we clicked straight away.
We both thoroughly enjoyed the whole experience from start to finish from the food tasting to the Fireworks it was so perfect. Throughout the time from choosing our venue to the Wedding was fun and exciting with what seemed like a million calls with Michelle and Lee talking over even the tiniest details and we would love to do it again it was one of the best times in our lives.
We loved every second of our Wedding in Malta, and with you guys taking care of everything we just relaxed and enjoyed ourselves in safe knowledge you had everything covered. The gardens were just beautiful, the setting really was perfect we couldn't have imagined anything more perfect, thank you we have wonderful fond memories of our day.
You too are amazing and we don't know what we would have done without you. We look forward to seeing you both on our anniversary.
Love Marion & Giles X