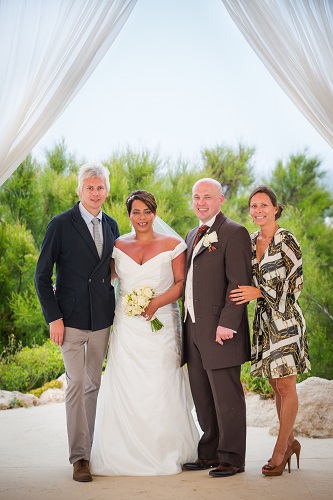 Michelle & Lee, we just wanted to thank you both for making our special day that more memorable! The lengths you both went to, to make sure everything went without a hitch were above and beyond.
We decided on a wedding abroad as it was an easy option for us due to the amount of guests we would be paying for back home would have meant the costs would have been astronomical. We were initially going to use one of the travel agents but after visiting several of these we decided it was not for us as they could not guarantee exclusive use of any venues. We would also only get to speak to our wedding co-ordinators when we actually arrived in Malta for our Wedding which took all control out of our hands and how would choose what we wanted and any extra's we wanted as we saw how are budget was. This was not for us!
We found Weddings in Malta (Michelle and Lee) with an internet search. They were one of several wedding Co-ordinators that cover Malta. We had email correspondence with several and after much deliberation we decided on Weddings in Malta. We found them professional and thorough in their responses to our questions, of which we had a lot of. All in all we dealt with them for over two years.
Our biggest issue was finding someone / people we could trust to hand over the biggest day in our lives and also what is to us a hell of a lot of money. As with most people at these times money is tight. If we were to part with the amount of money we knew we would have to fork out we needed trust.
After deciding to work with Michelle & Lee. They gave us a bible for our wedding, It was clearly set out and easy to work with. We simply supplied our ideas with photos so that they knew the theme we wanted. Early on in our conversations we had many telephone and Skype calls and emails which we think helped as it put faces to the emails and helped build up the trust and made things more personal, before we actually came over to Malta to choose a venue, we both thought that if we were handing over the biggest day in our lives there needed to be a personal connection as only then did we think someone would be able to understand what we wanted.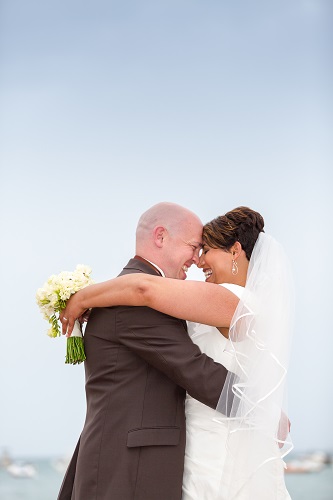 To give a bit of help and advise to people looking on getting married in Malta or even abroad. Do a reconnaissance 'mission' before choosing your venue. This was recommended by Michelle & Lee as they knew it to be a major help in making our decision. We did this at the time of year we were looking on getting married so that we had an idea on the weather conditions etc. Michelle and Lee gave us many photos of various venues and they were all beautiful. They took us around several other locations and they found us the perfect location within our budget, the venue we decided on from the photos looked absolutely stunning, It was right on the waters edge and was simply idyllic.
Prior to the wedding Michelle and Lee guided us through all the legal requirements and made sure everything was in order and took the stresses out of what would have been a very stressful and difficult task on our own. They have an extensive list of contacts who they use to make your day run as seamlessly as possible. We both have very busy work schedules and could not have done this on out own.
The Wedding day soon came and there was a small scare with the weather which may have meant the wedding needing to be held indoors. Obviously this is not what we wanted. Michelle and Lee took control and were monitoring the weather forecasts and were on site at the venue eventually it was decided all was good to go on the outdoors Wedding we wanted.
Apart from the issue with the weather the big day went without a hitch. It was truly magical, from the flowers, the photographer the venue staff, EVERYTHING! It was the perfect wedding. So much so that everyone who went commented on how special, unique and personal the day was. Our friends are still commenting on how the next wedding they go to will have to really go some to better it.
We were delighted to have Michelle & Lee as guests at our Wedding and they will always have our gratitude for making our day so special and perfect! They are not only our wedding planners but we now class them as friends.
We would like to thank you both for making our day so special and unforgettable!
Sarah & Steve O'Hara XXX