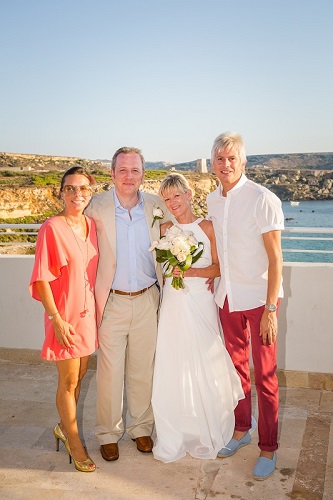 Our wedding day was idyllic from beginning to end … the day was just not long enough! We laughed and smiled all day … and there were some tears too … of joy and happiness!
Many thanks for all your support and friendship right from our first contact 3-4 months before our wedding day. Your help in filling out the required legal documents was invaluable, and you set so many things in motion before we even arrived in Malta – everything was so well organised and we had absolutely nothing to worry about.
The whole day was arranged by you so professionally. Your organisational skills and detailed knowledge of the proceedings required in Malta were instrumental in making this day so perfect for us.
Amanda and Tizi did a wonderful job for the ladies with hair and make-up. The flowers were absolutely beautiful and the cars that took us to and from our hotel to the venue were fantastic.
The pianist played our music selection so beautifully and really provided a lovely atmosphere for our wedding service and champagne reception afterwards. The setting was amazing with lots of sun, sea and sand.
You Photographer captured all of the emotions of the day with their professional photography including little things that happened which we were not even aware of at the time, but make our memories complete. All our friends and family who have seen the photographs and slideshow were really impressed. Not only that, the photos have also presented Malta so well that some of our friends are now planning to visit next summer.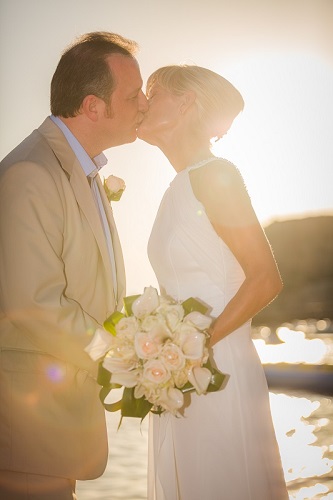 We would have absolutely no hesitation in recommending Weddings in Malta to anyone planning a wedding. Every wedding has individuality. Michelle and Lee positively exude a personal touch to meet the needs and personalities of the Bride and Groom.
Thank you so much Michelle and Lee … it was the most perfect day … much better than we could have dreamed of! Our wedding was small and intimate and perfectly formed.
Lots of love and very best wishes
Tina and Mark xoxo