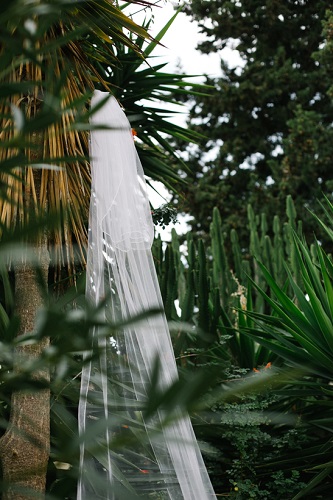 Make a statement and wear a veil for your Wedding in Malta. A Wedding Veil is a must for your Malta Wedding, Wedding Veils have become very popular in the last couple of years with bride's choosing to wear them high on their heads and over their faces more than ever.
Wedding Veils – How to choose the right one for your Wedding in Malta
There are a few things to consider if you're thinking about wearing your veil over your face. Remember that it will need to be attached higher on the head so that it is long enough to hang straight and even at the front so your hair will need to be styled to accommodate it. Either a low style, half up or all down to allow room for the veil to sit at the crown.
Always check your profile when trying your veil with your hair style. Ideally the look should flow, imagine drawing your eye up from your cheek bone, following the sweep of the hair if its up and then to your veil. It should either sit high on the crown, just above the occipital bone (the bump at the back of your head) or if wanting it below your hair style then on the nape – although you won't be able to wear it over your face from here.
If you are wearing your hair in a side bun but would also like a veil, wear it slightly higher so that it covers the hair. This will stop it looking uneven or flat in the photos.
Your Wedding veil should be longer than your hair if you are wearing your hair down, not peaking underneath.
If you have short hair, a short veil can add height, complimenting your style rather than drowning it.
Lace veils have become extremely popular since brides such as Kate Moss, Lily Allen and Catherine Middleton opted for a vintage lace style. The more vintage savvy among you will love the cap veils that cover the head to the hair line, have lots of pretty lace details and look amazing with hair worn in loose waves.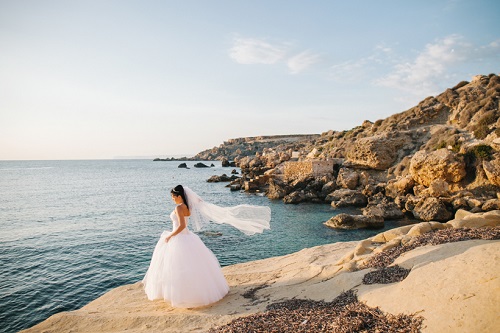 Birdcage veils are also very popular and have that vintage feel but look better with hair worn up in a low chignon for a retro feel. You can also add accessories to these to bring out the pearl or sparkle in your Malta Wedding dress or just to add some detail.
Ribbon edged veils add an instant cool retro feel and look great when worn slightly stiffer so they don't fall but add a little height. They look great with a chignon or side bun or a simple blowdry
Diamante details are great for adding sparkle to a simple Wedding dress.
When choosing the length of your veil think also about your hair and it's thickness. If you have very fine hair don't choose a full length veil as it may be heavy and pull your hair or be difficult to keep in.
If you have something beautiful in your hair that you don't want to hide, opt for a sheer one layer veil so that you can still see the hair beneath for the best of both worlds.
Even if you are convinced a veil is not for you, just try one on. You never know you might love it! If you choose the right one a Wedding veil can 'pull' your entire Malta Wedding look together gorgeously.
It's your Wedding in Malta you choose!