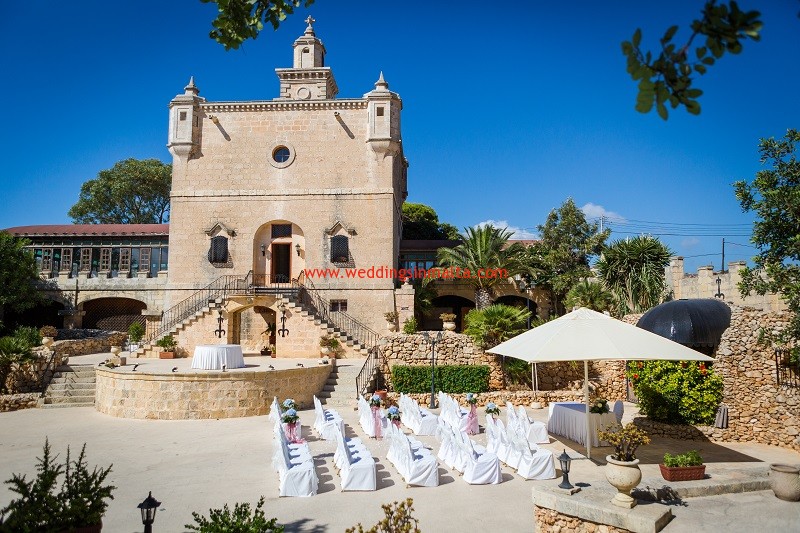 Every bride wants and deserves to be a princess, Weddings in Malta can give you the Fairy Tale Dream Wedding in Malta set in a romantic 17th century Castle of the Knights of Malta.
Lavish and grand bringing splendour like no other to your special Wedding day in Malta. 
One of the exclusive Castle Wedding venues in Malta, this is one of the most elegant, luxurious Wedding Venues in Malta set in beautiful gardens with a medieval setting this Castle creates a truly magical ambience.
You will make a spectacular entrance to this magnificent place of splendour. 
A red carpet will await your arrival adorned with beautiful flowers leading to you into this castle full of lavish and unique features including and a beautiful bridal room to ensure you look picture perfect to match the surroundings of this beautiful Castle in Malta.
Celebrate your special day Sipping Champagne Cocktails on the terrace surrounded by unobstructed views of the picturesque countryside.  
Even in Winter this is a truly magical place with the open fire and candles……creating the most romantic of atmospheres.
This tranquil venue is a most beautiful backdrop to exchange your vows.  Nothing can get closer to the perfect setting for the perfect Wedding in Malta.

Fairy Tale Castle Gallery