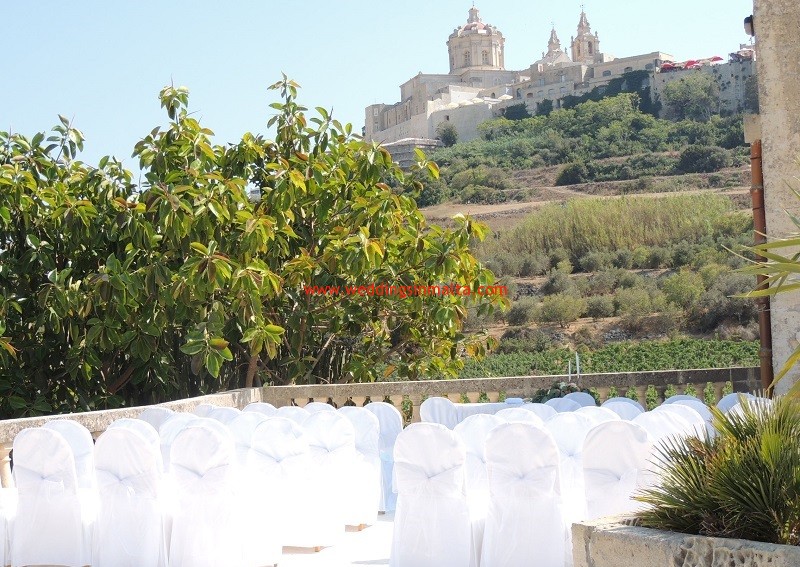 Bastion View has one of the most stunning backdrops in Malta for an event as significant as the start of your life together this is the most perfect setting for you Wedding in Malta.
The setting is rustic, charming and elegant and provides a magical setting for the most important exchange of words you will ever say making for your Dream Wedding in Malta.
Bastion View offers an exquisite atmosphere where one can fully appreciate the rustic ambience so characteristic of Maltese culture. You will exchange your vows in the most breathtaking backdrop of the silent city.
Beautiful both during the day with its luscious greenery and olive groves surrounding the garden and charming pool area as well as during the evening, when the spectacular bastions are lit up present a superb and truly magical ambience for your most special day.
This exclusive venue is full of character and you will be spoilt for choice with it's fabulous Pool Terrace for a cocktail reception, a further roof terrace for the after party and a chill out courtyard for that stolen moment with your significant other and a bridal room for that private pamper time.
The possibilities are endless to really enhance this stunning location with Fjakkoli, Fairy Lights, hanging lanterns, chiffon draping and decorative candles all adding to the magical ambience creating a very romantic atmosphere for the most important day of your life.

Bastion View Wedding Gallery